U.S. Secretary of the Interior David L. Bernhardt stopped by Elkhart's RV/MH Hall of Fame late Tuesday (Aug. 18) afternoon for a tour of the industry's unique attraction near the Indiana Toll Road and a remarkably casual RVBusiness interview facilitated by the Reston, Va.-based RV Industry Association.
Bernhardt's Hall of Fame visit couldn't have been better timed for the recreational vehicle industry, which has been on a roll lately, or for the Interior Secretary himself, a Colorado native who officially succeeded Ryan Zinke a year ago. And it certainly served the recreation-minded interests of RVIA, the RV Dealers Association and the Outdoor Recreation Roundtable (ORR) with which both associations are closely affiliated.
That's because it followed by only two weeks the signing into law by President Trump of the Great American Outdoors Act that promises to go a long way toward mending the multi-billion-dollar maintenance backlogs at the nation's national parks. This new law, a rare bipartisan measure in these politically divisive times, provides $9.5 billion to help resolve a National Park System maintenance backlog of as much as $12 billion. Funding starts in the 2021 fiscal year.
Also adding to the extraordinary timing of Bernhardt's Elkhart visit is the fact that ORR, comprised of 32 national associations representing more than 110,000 businesses nationwide, last week released "A Roadmap for a 21st Century Outdoor Recreation Economy" through which it hopes to help frame a national discussion of the "critical importance" of the recreation sector in both a humanistic and economic sense.
Following are the edited highlights of RVBUSINESS.com's Tuesday afternoon conversation with Bernhardt, who had spent the morning in Saginaw, Mich., announcing a historic expansion of hunting and fishing rights at national wildlife refuges. He was also scheduled to appear at a Wednesday morning press conference at Forest River Inc.'s East to West RV facilities (see related posting) before heading off to the Indiana Dunes National Park to inspect deferred maintenance and visit with NPS employees.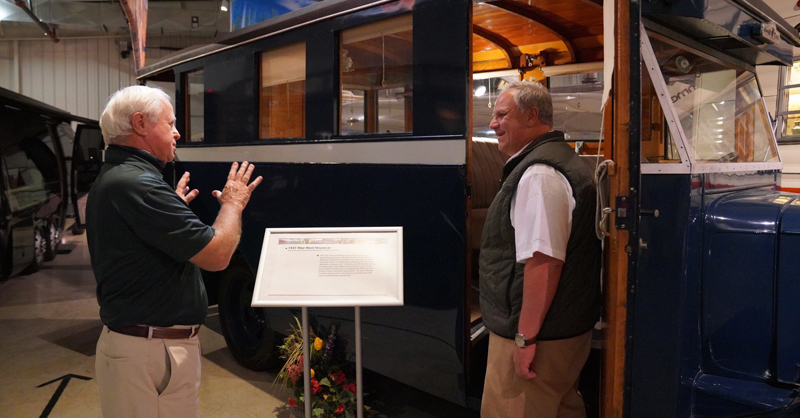 (Photo credit: Secretary Bernhardt Twitter @SecBernhardt)
RVBusiness: How in your view did the U.S. so seriously lose track of its obligation to more aggressively take care of its public lands that the Great America Outdoors Act needed to be passed in the first place?
Bernhardt: So, 'losing track' would be one way to look at it. The other way to look at it would be to say simply that 'the park service decided it had bigger priorities than maintaining the condition of its properties.'
It would be no different than if you buy a house and you don't over the years repaint your trim or fix your shingles. That's a choice. But eventually it'll bite you. Eventually you get a hole in your roof. And that really is what happened.
And I also think it's almost a philosophical approach because when you show up at a national park, in my opinion, you want that place to look spectacular. You want it to be totally inviting. These are public resources. These are the jewels of the federal government, and not only that, they're the jewels of the whole world because the park service really was one of the greatest ideas ever.
But if you show up and the weeds are high, and the sidewalks are all cracked, what's the image that you walk away with? And I think at its heart, we have a President who's understanding of both hospitality and property management, and he really has an expectation that we will invest this money wisely to provide an incredible experience for the visitor.
And what that may mean is that our campgrounds and parking lots shouldn't continue to reflect the 1960's and a Rambler station wagon because you know what? It's hard to fit that modern Prevost (luxury motorhome) into that 1960 station wagon space. It's actually hard for me to fit my Chevy Tahoe in there, actually.
Check out the complete Q&A between Interior Secretary David Bernhardt and RVBusiness here.
---
Photo courtesy: RVBusiness