The Minnesota Department of Natural Resources (DNR) and Explore Minnesota have named members to the new Outdoor Recreation Task Force. The 20-person task force is set to meet, via WebEx, for the first time on April 28, to begin discussions on the state of outdoor recreation in Minnesota. The team represents a broad swath of outdoor recreation interests in the state, including Winnebago Industries Foundation Executive Director Katy Friesz.
Friesz is based out of Minneapolis, Minn., and manages Winnebago Industries corporate responsibility program. This initiative is part of the RV industry's efforts to establish Offices of Outdoor Recreation (OREC) in states across the country.
"Winnebago Industries connects people with the outdoors, one adventure at a time. At work, I partner with colleagues to help people explore the outdoor lifestyle and advance equitable access, environmental stewardship, and the positive economic impact outdoor recreation has on local and regional economies," said Winnebago Industries Foundation Executive Director Katy Friesz. "At home, as a mom of three young kids, I am grateful for nature's uncanny ability to create bonds between family and friends, while also tending to individual health and wellness. Congratulations to the members of the Minnesota Outdoor Recreation Task Force; I look forward to collaborating to ensure a strong future for outdoor recreation in Minnesota."
"Engaging this group of individuals is truly a unique opportunity for collaboration," said DNR Commissioner Sarah Strommen. "I am confident that this group is ready to think creatively and develop ideas that will ensure Minnesota continues to be a national leader in outdoor recreation."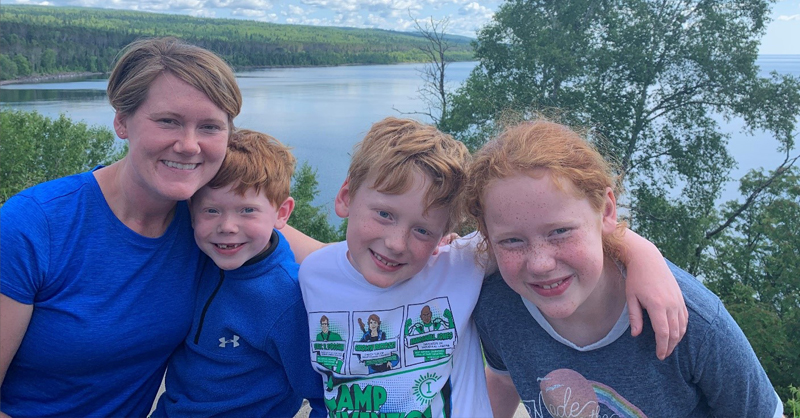 The DNR and Explore Minnesota, in partnership with the Governor's Office, selected task force members out of a pool of 140 applicants. Staff and agency representatives reviewed applications and considered the needs of the task force through several lenses, including the variety of interests that are directly or indirectly related to outdoor recreation, such as nonmotorized and motorized outdoor activities, economic development and tourism, health, education, and diversity, equity, and inclusion. Other selection factors included type of outdoor organizations, such as nonprofits, manufacturing, retail, advocacy, and volunteer-run groups in addition to diversity in race and ethnicity, gender, age and geography.
"I think the team assembled here is robust and represents a wide variety of industries, organizations, and perspectives that we need to continue elevating Minnesota's outdoors as a national and international destination," said Explore Minnesota Director John Edman. "Now more than ever, our great outdoors are vital to the well-being of Minnesotans and we hope this group will delve into how we can meet those demands."
With the first meeting scheduled at the end of the month, and hosted on a digital platform, the group will have an opportunity to engage with the public, who are permitted to observe the meeting, as they send in questions or comments. Meetings will continue remotely until risks of COVID-19 have dissipated, after which the task force will host in-person meetings, with the public welcome to attend.
Here is a list of the Minnesota Outdoor Recreation Task Force members:
Reinaldo Aponte
Adventures Director, The Loppet Foundation
Mary Bauer
Registered Nurse, VA Medical Center,
Representative of the Minnesota Canoe Association and Minnesota Ski League
Steven JR Burke
Director of Government Affairs, Polaris
Elliot Christensen
Tobacco Prevention Coordinator, Lower Sioux Indian Community
Megan Christianson
Executive Director, Visit Grand Rapids
Katy Friesz
Corporate Responsibility, Winnebago Industries
Matt Gruhn
President, Marine Retailers Association of the Americas
Aaron Hautala
Cuyuna Lakes Mountain Bike Crew
Breanne Hegg
Vice President of Programs for Girl Scouts River Valleys
Joe Henry
Executive Director, Lake of the Woods Tourism
Hansi Johnson
Director of Recreational Lands for Minnesota Land Trust
Greg Lais
Founder, Director of Strategic Initiatives, Wilderness Inquiry
Perry May
Director At Large, All-Terrain Vehicle Association of Minnesota
Sarah Milligan-Toffler
Executive Director, Children and Nature Network
Mark Norquist
Founder, Modern Carnivore
Stephen Regenold
Founder and Publisher, GearJunkie.com
Mollika Sajady
DO, MPH, University of Minnesota Health
Naomi Sam
Coordinator and Director, Cultural Resources for the Mille Lacs Band DNR
Asha Shoffner
Founder, Fiwygin Outdoors
Steven Voltz
Store Manager, REI Roseville