The RV Industry Association invited personnel from the Department of Commerce (DOC) to visit with members in Elkhart, Ind., to discuss opportunities to expand their companies and investments into Japan, Korea and China.
As an effort supported by the Market Development Cooperator Program (MDCP), a program designation that  the RV Industry Association was awarded for the first time in 2012, and is currently under extension through December 31, 2020, officials from the International Trade Administration, DOC Indiana Office, and Foreign Commercial Services from the U.S. embassies and consulates in China, Korea and Japan have visited Elkhart each year since the association received the designation.
The MDCP allows the RV Industry Association to have a team of DOC officials in D.C., Indiana, China, Korea and Japan dedicated to the association's efforts whether it is expansion into Asian markets, working within the standards and regulatory processes with governments, market research on local conditions or education to foreign officials about the American RV market. With these goals in mind, RV Industry Association Director of Asia Affairs Edward Han, DOC Director for the Indiana region Mark Cooper, International Trade Specialist for the Office of Consumer Goods Charlie Rast and Commercial Assistant for DOC Japan Yu Ohashi met with members at Forest River, InTech, Phoenix RV, Chinook RV, Dexter Global and KZ-RV. Interim President Craig Kirby and Vice President of Standards Bruce Hopkins split their time attending meetings to answer questions about the resources that the Association can provide as a member benefit as expansion into overseas markets are considered. With the MDCP status, the RV Industry Association will continue to work on projects promoting U.S. RV standards, lobbying for RV friendly regulations and advancing member interests in the targeted markets.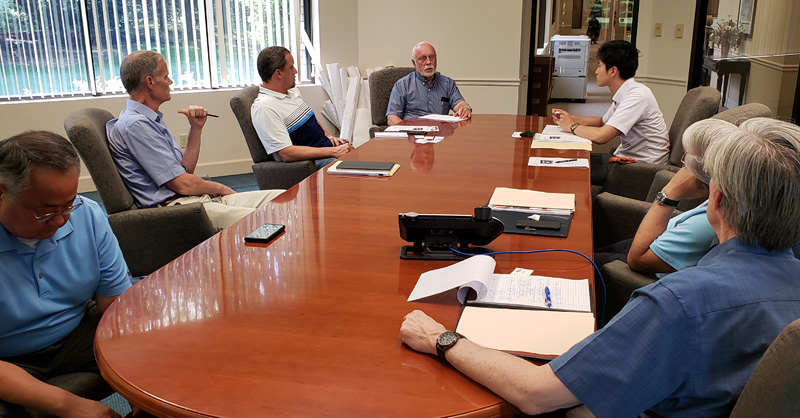 The purpose of the visit was to better understand members' businesses and export initiatives and to explain services and resources available from the DOC, its offices in Indiana and around the world. The visits also allowed the DOC and association staff to update members on current market situations in China, Korea and Japan, as well as other markets in the world.
Having met with RV manufacturers of motorhomes and towables, as well as suppliers, DOC officials and association staff took notice that many members have realized the need to tackle overseas markets. Most of them echoed the thought that exports help balance business and that foreign markets help supplement domestic sales when the U.S. market softens. From initial market research to in-country business, visits through Gold Key Service to services provided by professionals vetted by the embassies and consulates, RV Industry Association members will have what they need at their disposal to expand into overseas markets.
This year, Yu Ohashi from Commercial Service in Osaka, Japan was able to to attend the meetings for the first time, where he shared his research and analysis with the hosts. The recreation market for RVs has been on a steady growth in Japan in recent years. This is in addition to the disaster relief market the association focused on in the year's past. Mr. Ohashi participated in multiple plant tours of the smaller motorhomes and towables which appeal to Japanese buyers and will share information with prospective dealers and importers in Japan.
In addition to the DOC's involvement in the process, Han emphasized his role with the RV Industry Association as an added resource for any member who wants to explore business opportunities in Asia. Spending 6-8 months in Asia each year, Han works closely with local governments and trade groups to promote U.S. RV standards and U.S. RV products.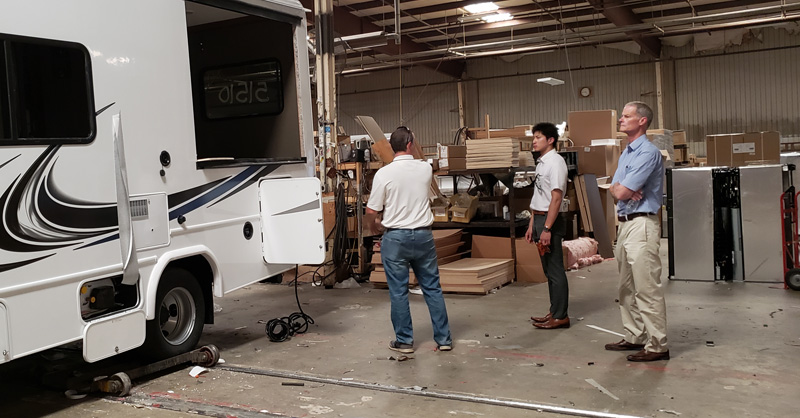 It was a productive meeting for all parties in Elkhart as DOC officials appreciated the candid discussions they had with members in regards to their plans for expansion and the challenges that currently exist to better help them understand the industry as a whole and aide in  providing better services in the future.
As the markets grow in Asia, especially in China, Korea and Japan, the RV Industry Association will continue to work with the Department of Commerce to promote U.S. RV standards and U.S. RV exports to these countries.
In China, new RV standards are being developed and existing RV standards continue to be reviewed. Korea has initiated a government research project on RVs to determine how RVs should be regulated. The Association is dedicated to continued participation in the standards development process to prevent American RVs from being locked out of the markets. China's high import duties and taxes on RVs, which has been exacerbated as a result of the current trade dispute, will remain as a high priority area of focus for the international team.
Members are encouraged to contact the DOC and RV Industry Association staff to discuss their needs for export initiatives. For more information about the opportunities that exist in the Asian market, members may contact Edward Han at [email protected].