In 2011, a young family, the Nims, made the decision to rid themselves of most of their possessions and hit the road in their RV full-time with their two boys and three pets. The adjustment was something they needed to get used to, and over time they began to thrive with their newfound life on the road to which they described as a "year-long plan which morphed into an open-ended adventure."
For four years, the Nims took to the road and checked one adventure off the list after another. In 2014 another tiny adventurer made his debut as the family welcomed their third child as part of the nomad clan in an RV in Florida. Not soon after, the growing family mapped out their next excursion and routed their way from Key West to Alaska. That journey connected the "Newschool Nomads" with Go RVing where they appeared as one of their very first bloggers as well as video creators on the AWAY video microsite.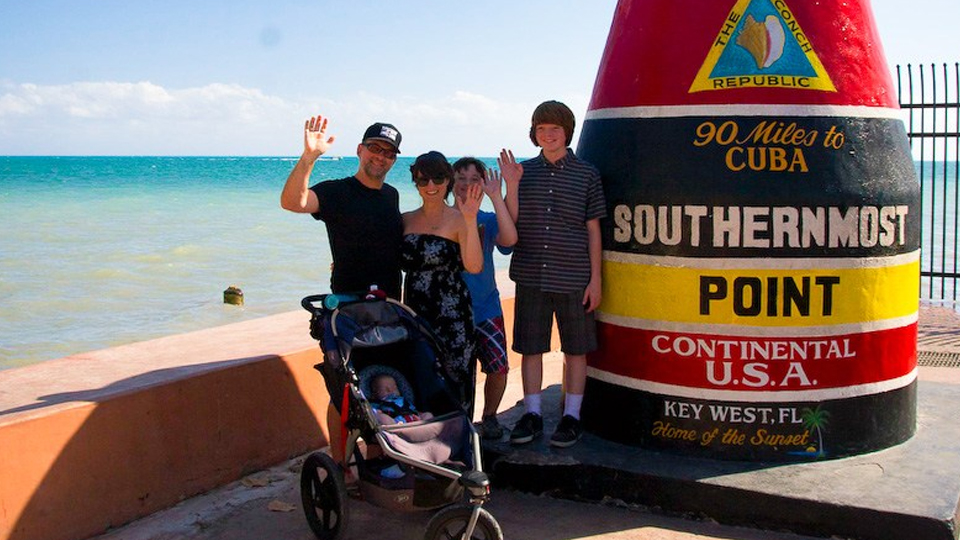 Despite all the fun they were having, the Nims teetered with the decision to continue life on the road or consider planting roots for a time since their older children were entering their teen years. We reached out to Brent and Jenn Nims to learn more about their decision to transition from full-time to part-time RVers, share some fond family memories from their time on the road and discuss their plans for the coming years.
Q: What inspired you to decide to RV fulltime?
A: We were on a road trip between Phoenix and Ventura in 2009. I was riding shotgun in my happy place. It suddenly occurred to me that if we got an RV to road trip, that could be our life. Thinking out loud, I said to Brent that we should buy an RV and live on the road. He didn't take me seriously at first, but over the next few hours we talked it over. It sounded fun but we realized that it could be more than fun. We realized it would also be an amazing educational opportunity for our kids, a time to grow closer as a family, a way to slow down and we could give our kids a memorable childhood. By the time we got home to Ventura we were both set on making it happen. It took two years from when the idea spawned to the day we actually hit the road.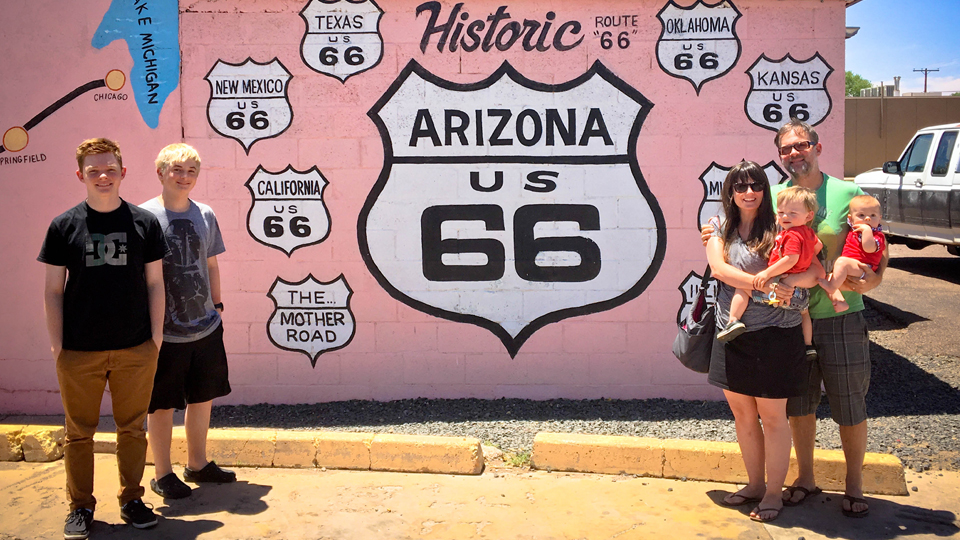 Q: Tell us about that quest your family made from Key West, Florida to Alaska. What sparked that venture and how was the journey with a newborn?
A: We decided to travel to Alaska after we had been on the road for two and a half years. We were parked in Florida for the birth of our third baby. Afterwards, we started to talk about what we wanted to do next. We had reached our goal to see the 48 contiguous states, but we weren't ready to settle down yet. Brent brought up Alaska, and at first, I was hesitant because we had a new baby and Alaska is a long drive, but the more I thought about it the more I wanted to do it. It might be a long drive, but newborns sleep a lot more than toddlers! Since we were already in Florida, we thought it would be fun to start at the most southern point of the continental U.S. in Key West. Starting there and traveling all the way up to Alaska just had an epic ring of adventure to it. Brent and I knew it would be something our family could talk about for years to come! It's still one of our most favorite memories.
Q: What were a few of your favorite destinations along that epic journey?
A: There were so many! At the suggestion of the Go RVing audience, we visited Chattanooga, Tenn., for the first time and fell in love with it. We had no idea what a great little city it is. Just outside of Madison, Wis., we spent a great day at House on the Rock. (Another suggestion from the Go RVing audience!) It's a wild and fantastical "house" built by Alex Jordan. In Canada, we loved Banff and Jasper National Parks. Both are incredibly beautiful. Further north in British Columbia, we visited Laird Hot Springs. It was an amazing place to stop and soak in the springs in the middle of the forest after a long day of driving. In Alaska, we fell in love with Denali National Park. We got lucky that day because it was clear and the view of Denali itself was breathtaking. In Homer, Ala., we spent a few days camped right on the water of the Homer Spit. Homer is a unique artsy little town at the end of the Kenai Peninsula. We decided to go off the beaten path on our return trip to the lower 48 states. Our route took us through Chicken, Ala., one of the few surviving gold towns. It's a real funky place! Residents number in the single digits in the winter, no more than 50 in the summer, and there is no electricity (they use generators.) Another monumental stop was Dawson City in the Yukon. Dawson City is inseparable from the Klondike Gold Rush. The town is rich in history and is a sight to be seen.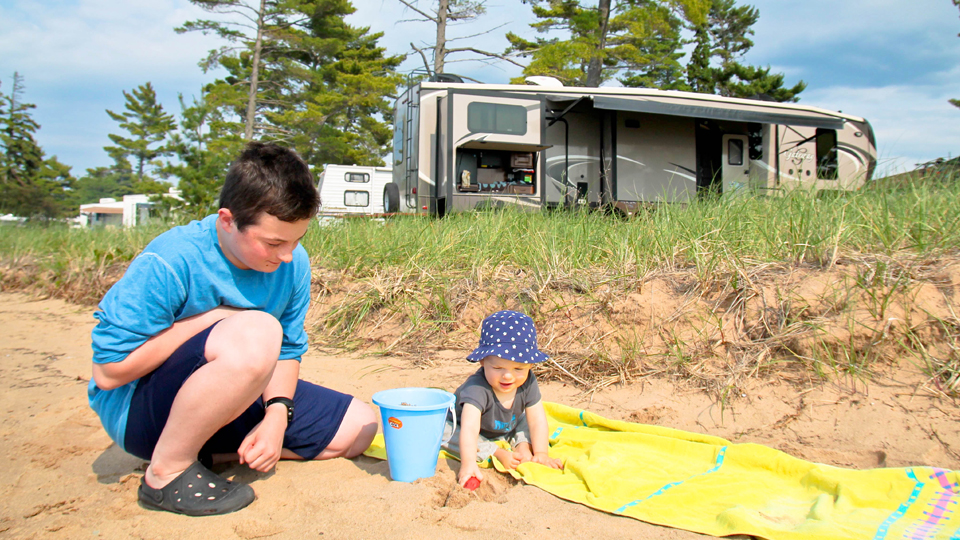 Q: Tell us how it was for your family to adjust to the full-time RV lifestyle with multiple personalities in the mix.
A: I'm glad we hit the road when we did. At 8 and 11 years old, the boys were at a great age to RV full-time. Had we waited much longer, it might have been a harder transition. That said, our boys' personalities are nearly opposites. When we started, one of them loved the city and the other one preferred being in nature. We were careful to strike a balance to meet both needs. Brent had to adjust to working on the road in a small space and I had to make sure I regularly went on walks by myself to recharge. I loved walking through the campgrounds. Sometimes I would just stroll in silence, but other times I would stop and talk to other RVers. I met one of my now dear friends on one of those "recharge" walks through a campground. 
Q: Is there any particular place you revisited from your full-time days, now as a part-timer, and experienced it differently?
A: Yes! Two summers ago, we went back to the East Coast and took a few months to follow the same general route up the coast we took our first year as full timers. It was so fun to revisit many of the same campgrounds and attractions five years later. We had a great time recreating photos we had taken back in 2012 and remembering our first trip. Before, the boys were 9 and 12 so, of course, they didn't leave my sight. This time, since they were 14 and 17, we let them explore a lot on their own. We even bought them subway passes and let them explore New York City together by themselves. They learned so much that summer on the road. Before, we didn't have toddlers so that element changed how we traveled a bit. Everything just takes longer with little ones and we had to build in downtime for them to run and play. In some ways that trip back to the East Coast was bittersweet because we knew that might be our last really big road trip together as a family of (now) six. It was such a special experience and time for us. One that I'll hold dear to my heart the rest of my life. 
Q: What do you think the future holds for your family as far as RVing is concerned?
A: Brent and I both grew up RVing with our families and we've had an RV ourselves since our bigs were little. Neither of us can imagine life without an RV. Currently, we are restoring an Airstream. It's a fun project but we've been talking about how we'd love to have a truck camper since we live in Colorado and there are a lot of remote places we'd love to camp. (I don't do tents!) However, we are a family of six, so, I'm not sure that's the best idea for this stage of our lives. What I really want is a few different types of RVs for different types of adventures! Our oldest is heading to college in the fall and our second oldest has a few years until he is done with high school, so we know we will be part-time RVers until he graduates. In the meantime, we are trying to take the RV out as much as possible which has proven harder than we thought with the teenagers' busy schedules. At the same time, we know we need to get out and away since they have busy schedules. Our ultimate plan is to take the littles back on the road full-time once the bigs are launched into the world. We want the littles to have the same opportunities and experiences the bigs had, so Brent and I are intentionally making choices with that future in mind. We have gypsy blood and can't wait for hit the road 2.0. 
To learn more about the Newschool Nomads and their adventures, click here!