Smart technology is revolutionizing both RV design and the way we RV. Many RV manufacturers are working with their supplier partners to install smart systems and accessories that deliver what today's consumer is looking for, while making RVing easier than ever. Intuitive control systems and complete customization aren't a thing of the future anymore. From awnings that offer the convenience of being controlled through the simple click of a button to high-efficiency appliances, the RV industry is looking to outfit the next generation of RV with new technology.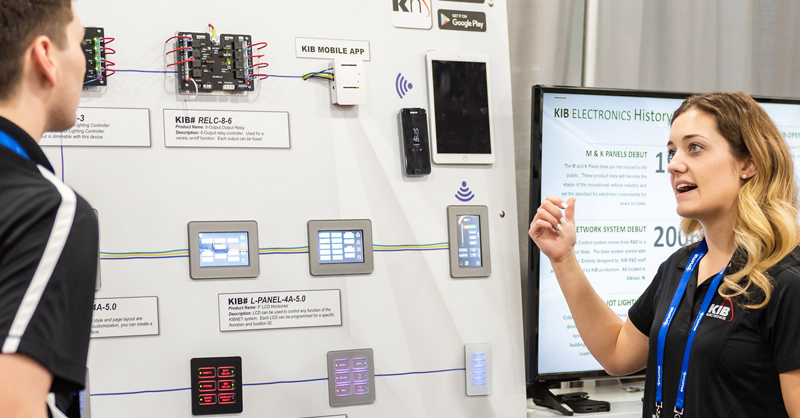 (KIB Electronics features KIBNET Networking Systems at RVX)
LITHIUM-ION BATTERIES 
Lithium-ion batteries are becoming more of a viable choice for RVers due to their reliability and efficiency. The level of technology is on the rise while costs are declining, creating a buzz among RV consumers, making it easier to justify adding them to their RVs.
Charging is simple. RVers don't have to deplete the battery completely to recharge it and there's an option to recharge in the middle of the cycle. Campers can sleep well at night knowing that they don't have to run the generator overnight or check their batteries constantly. With these benefits becoming more prevalent and consumer demand increasing, RV manufacturers are making more and more models that come equipped with lithium-ion batteries.
PERFORMANCE AWNINGS
The thermometer is pushing 100 degrees and you're out camping with the family. The sun is beating down relentlessly and feels as if it's got its arm around your shoulders. This sounds like an opportune time to set up the awning and enjoy some views from your lawn chair. Luckily for RVers, new manufacturer awnings are placing comfort and ease in their hands via one-touch technology that helps ensure that the awning set point is correct, eliminating any potential damage to the awning caused by the elements. At the touch of a button, awnings extend and retract, adding another nice tech upgrade benefit to RVers.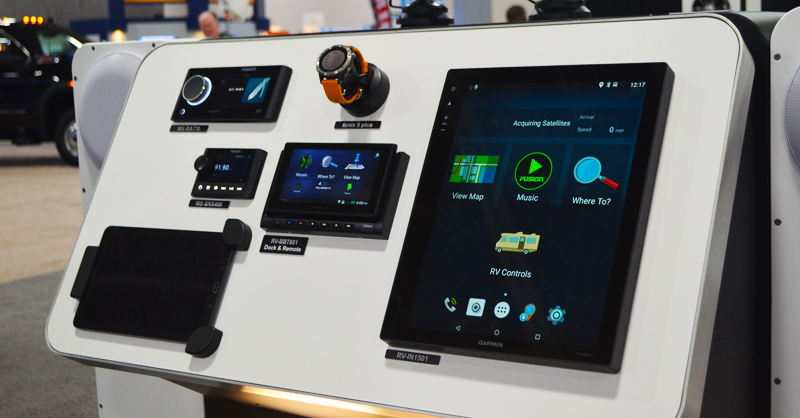 (Innovative products featured at RVX)
APPLIANCES
Even with simple appliances, manufacturers and suppliers are looking at ways to improve design and functionality. There's nothing like having a refrigerator in your RV to really bring the comforts of home to the open road. Ask any RVer and they'll tell you that refrigeration means you can store the essentials – veggies, dairy, meat and most importantly, beer. RVers looking to update their kitchens can now turn to cutting-edge refrigerators with functionality improvements such as door hinges that allow them to be opened from either side. This means more design, more comfort, more quality and more practical functionality for an appliance that needs to hold up to the daily rigors of the road.
These technological improvements are just a few of the many amazing integrations being brought into RVs by manufacturers and suppliers responding to consumer demand. The future is bright for the RV lifestyle, as industry brands deliver the spirit of adventure, while steering the industry towards innovation.