The instructions in this article are to be considered as general coverage on the subject and may differ depending on the type of RV. Consult your owner's manual for specifics before attempt at any winterizing procedure.
---
The temperatures are dropping, and the days are shorter, but that shouldn't stop you from taking your RV on the road for an extended trip or out camping with family, friends and Jack Frost. Here are some tips to help you adequately prepare for the cold months ahead:
PREPPING YOUR RV FOR WINTER
Before venturing off into the winter wonderland, the key is to make sure that your rig will endure the rigors of a possible snowy road trip from the exterior and interior.
EXTERIOR
Examine the exterior of your RV by first checking all window seals and re-caulk where needed. Then inspect the weather stripping on all exterior doors – especially the entry – basement areas and access panels and replace if necessary, in order to keep the cold drafts out.
Cutting insulated foam boards can be a low cost solution adding an additional layer of insulation which can fit securely between the frame of the RV and its base. This will create a barrier which will assist with insulating the tanks, water lines and the floor keeping the cold air from entering and can easily be found at most home improvement stores. RV skirts can help, though they don't provide as much insulation.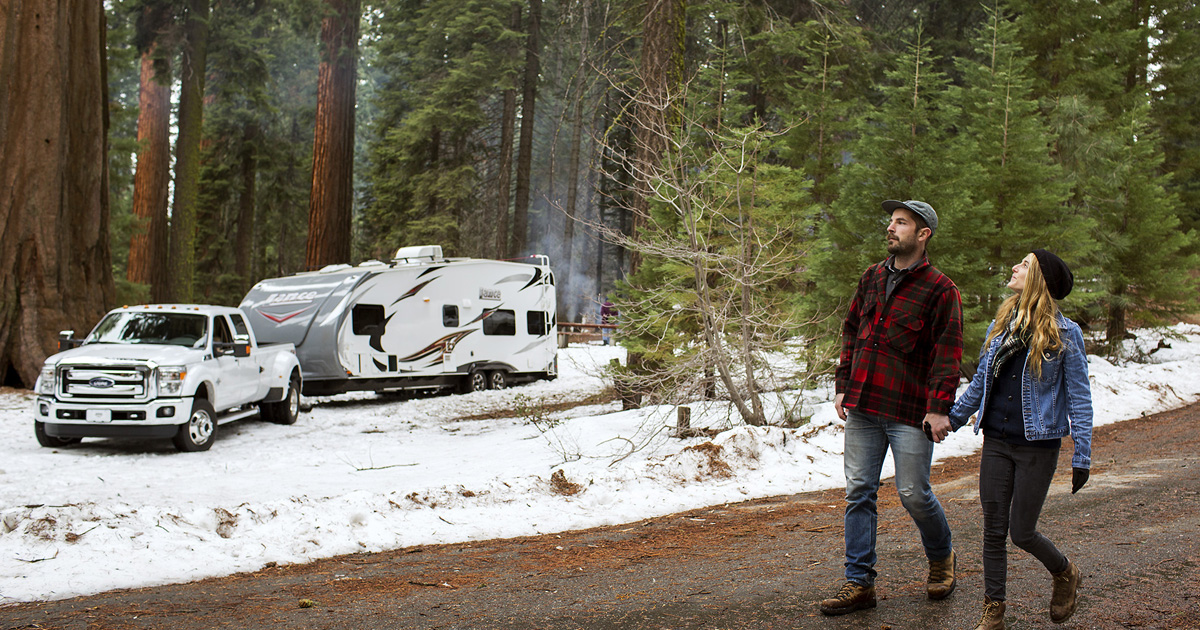 (Photo courtesy/Go RVing)
HOLDING TANKS
Emptying holding tanks are important regardless of weather conditions, but it is extremely important to remember to wait to empty your tanks in colder months until you're ready to leave. Otherwise, you risk ice forming inside. To begin, be sure to empty your black and gray water tanks before your trip. If you don't, you run the risk of damaging your holding tanks which could result in the tank freezing, expanding or the possibility of exploding. Add approximately a quart of RV antifreeze (Note: it's important to use RV specific antifreeze and not the one used on cars) to each. This will protect the dump valves from freezing. Then, insulate the pipes which drain into the tanks with foam pipe insulation and consider adding electric pipe heaters if you plan on camping in below freezing temperatures for an extended time. Be sure to have an electric hook-up or generator to accomplish this. 
Tip: Wrap your sewer hose in insulation or heat tape. This will help prevent ice dams from forming inside.
FRESH WATER HOSE
If you have a fresh water hook-up, think about buying a heated water hose to prevent freeze-ups or bursting. Keep all hoses and cables off the ground and out of the snow.
WINDOWS
If you don't have dual pane windows, you may be able to retrofit with insulated RV windows. For an extra layer of insulation, using insulated curtains can prove to be helpful in trapping in that warmer air. Class A and Class C motorhomes have cockpits that are separate from the living space. Installing insulated curtains to separate the two spaces could also be resourceful to centralizing the heat in the living quarters for overnight stays.
Tip: A low cost solution would be to cover your windows on the inside with foil-backed foam insulation which are available at most home improvement stores. These are lightweight and easy to cut and can be attached to hook-and-loop fasteners to the window frame. Window insulating film can also help with reducing condensation and loss of heat.
CEILING VENTS
Most RVs have roof vents or skylights - ideal places for heat to leak out. Seal off these spots by installing RV vent cushions, which fit securely into most standard-sized vents by simply pushing them into position.
STABILIZING JACKS
Stabilizing jacks can freeze to paved or concrete pads. Place blocks of wood beneath them. This way, you can raise the jacks, drive forward and freely remove the blocks with ice melt.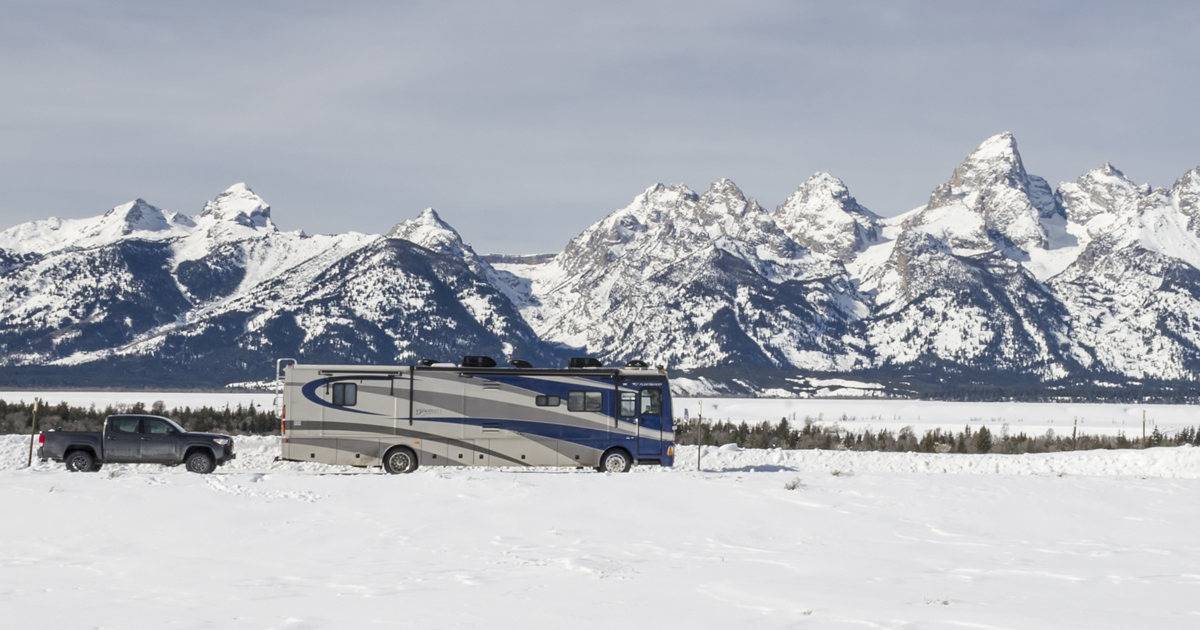 (Photo courtesy/Go RVing)
REFRIGERATOR
The refrigerant in a propane or electric refrigerator is a solution of hydrogen gas, ammonia, distilled water and sodium carbonate - all under 200 PSI pressure. When outside temperatures dip below 20 degrees Fahrenheit, this liquid may turn into a gel that can clog the refrigeration system's coils permanently – not ideal by any means! To help prevent this from happening, remove the outside refrigerator access cover and apply duct tape over the top two vent slots. Apply the tape from the inside of the cover to prevent leaving adhesive on the outside when removing the tape.
PROPANE
If you use propane to power your unit, it's likely to last only a few days in extremely cold weather. Always plan ahead and make sure there is a propane refill station nearby and open or bring some extra tanks with you and are safely secured when being stored.
Tip: Some campgrounds offer propane bottles for rent. Call ahead to find out.
INTERIOR
EMERGENCY EXTRAS
If this isn't already a bumper sticker, someone should consider making one that says – "Remember, when RVing in the winter, the best way to plan is preparing for the worst." With that in mind, here's a check list of items to keep in mind:  
Sleeping bags rated for zero-degree temperatures

Extra blankets

Extra clothing

5 gallons of water in heated storage space

Gasoline-powered generator

Blow dryer to defrost pipes and tanks

Batteries

GPS System

Solar charging panels

Cash

Tire chains
The RV Industry Association would like to wish everyone a safe and relaxing winter season and hopes these tips help you prepare for your RV adventures and not let Jack Frost get in the way.