Baltimore Ravens left guard Bradley Bozeman broke out in 2019 as a major part of a dominant offensive line, but there's something many people wouldn't suspect about the tough-looking 6 foot, 5 inch, 317-pound 2018 draft pick.
Bozeman looks like someone you wouldn't want to mess with now, but as a little boy, he had to endure the pain of relentless bullying.
"I looked like Augustus Gloop from 'Charlie and the Chocolate Factory,'" Bozeman said. "I was a chubby kid. I wouldn't stand up for myself. Kids picked on me because I was so big. I think in sixth grade, I was 6 foot tall, 260 pounds. I was always a really big kid."
The bullying continued for about five years until Bozeman discovered football.
"I threw myself into football, and I loved football. I loved taking that aggression out on the football field because I never would do it in person on someone because I was just too kind of a kid," Bozeman said.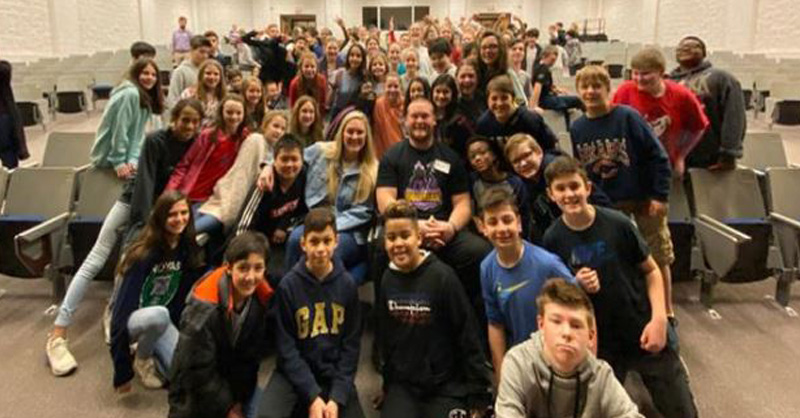 (Photo credit: WBAL News/Nikki Bozeman)
He played center at the University of Alabama, where he met his wife, Nikki Bozeman, a center for the Crimson Tide basketball team.
The couple are using their painful childhood experiences and Bradley Bozeman's platform as an NFL player to help thousands of kids living through the merciless bullying they once suffered through.
"We're going on a cross-country trip. We're going to go all around the southern coastline to Texas, Albuquerque, New Mexico, all the way to California and back," Nikki Bozeman said. "We'll talk at 15 different states with over 16,000 students. We're really excited to get our message out there for our anti-bullying foundation and spread the word."
The Bozemans will spread the word about preventing childhood bullying through their charity, the Bradley and Nikki Bozeman Foundation.
"We started this process probably about two months ago, maybe almost three months now. We started calling schools," Nikki Bozeman said. "We had to first find campgrounds because that's the hard part is finding campgrounds, so once we found a campground, then we could find schools within the vicinity of that campground."
The Bozemans needed to find campgrounds because their anti-bullying trip is on wheels. The couple coordinated the RV tour themselves, cold-calling schools.
Check out the full article from WBAL News here!