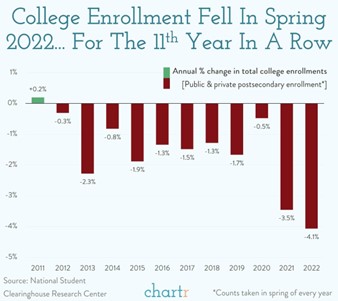 For the 11th year in a row, spring college enrollment numbers have continued to fall. 685,000 fewer students were enrolled in post-secondary education in America this spring, a 4.1% fall on 2021, which itself was a 3.5% fall on the numbers from 2020 according to data out this week from the National Student Clearinghouse Research Center.
The biggest drop came in undergraduates, as 662,000 fewer undergraduates enrolled — a 4.7% drop on the year before. Community college numbers fell almost 8%. Part of that fall could be explained away by the pandemic, where remote-learning distinctly diminished the college experience, but the scale and consistency of the declines suggest something larger is at play: college is losing its allure.
The rise in the cost of college has outstripped the rise in the cost of living many times over in the last 50 years, suggesting that the math of the college decision is, for some prospective students, not adding up anymore.
As more young adults consider alternative paths to higher education, some may be interested in having a career in the skilled trades, a field with growing demand. To meet this potential interest, the RV Technical Institute has established a solid curriculum for those interested in becoming certified RV technicians.
RVTI is the gold standard when it comes to RV technician training, providing the only industry-backed training curriculum and RV technician certification and career path. Its mission is to provide world-class training for RV maintenance and repair that will reduce the RV industry's shortfall of trained RV technicians. The Institute seeks to improve the RV consumer experience, and increase the number of trained and certified RV technicians.
The training program has several advantages when compared to a four-year college degree, including shorter lengths of study, an ongoing demand for skilled workers, and cheaper costs than college tuition. Additionally, the program is accessible online and allows the student to go at their own pace. If the student prefers, they can take the courses in person at the RV Technical Institute's facility in Elkhart, IN. Their course catalog can be viewed here.
Learn more about the RV Technical Institute at RVTI.org.
Interested in signing up for the RV Technical Institute's training course but concerned about cost? It has never been easier or more affordable to receive the gold standard RV Technical Institute training with the launch of RVTI's new subscription model. The plan allows RV dealerships to train all their technicians either through the online program or in-person at RVTI's headquarters in Elkhart for $1,200 per location. For individuals, either mobile technicians or people who are looking to get into the RV technician field, there is a $300/year option for individuals. This plan also provides access to RVTI's Level 1 and Level 2 online training or in-person classes in Elkhart. More information on the new subscription model is available here.
Subscribe to News and Insights