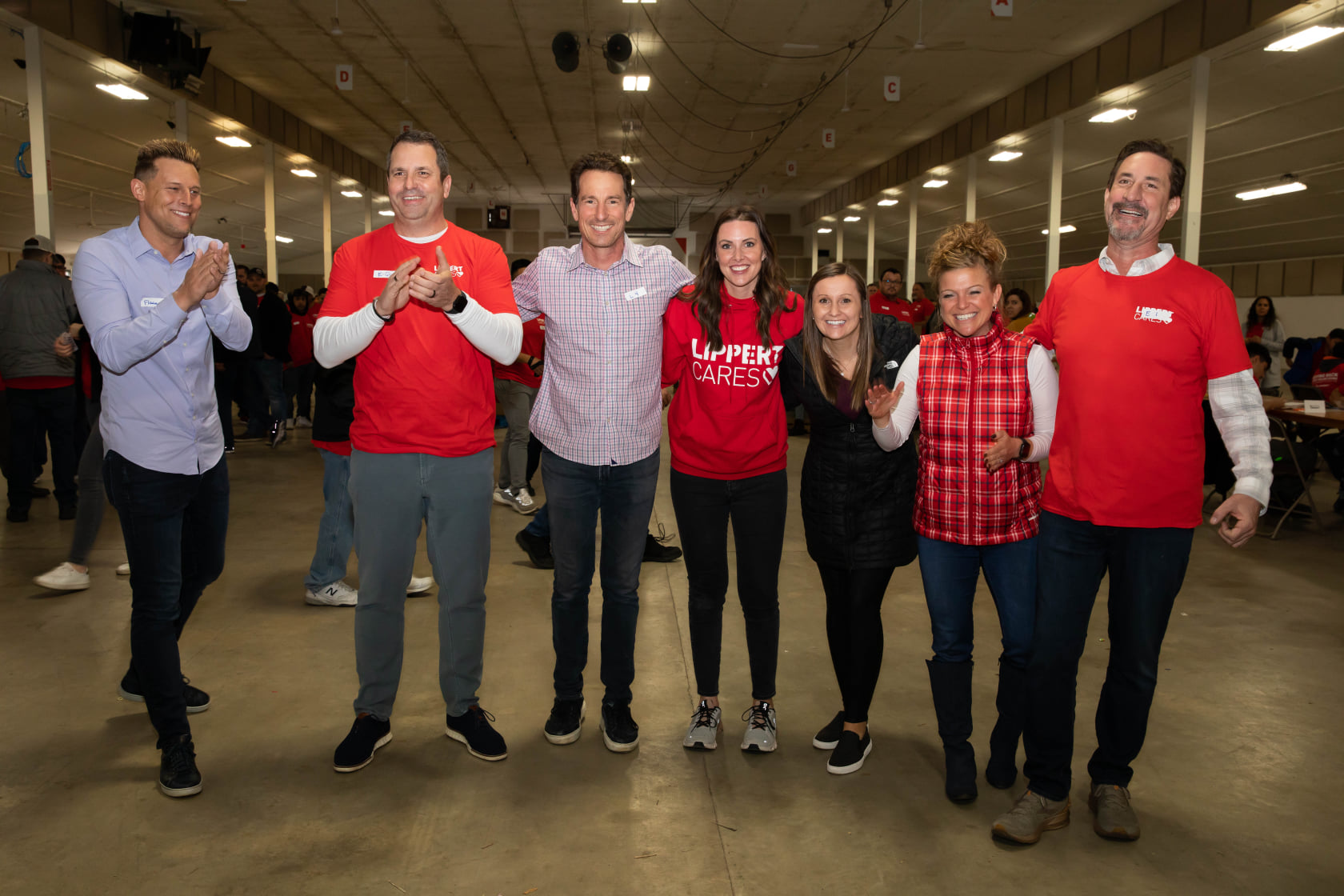 Inspired by Jason Lippert and directed by Michilah Grimes, Lippert has become a model of community service within an industry that sets a high bar.
"The RV industry is an extremely generous community," said Grimes. "We rally around causes and people; we want to help and to be involved."
Since 2017, when Lippert began quantifying its corporate impact, 550,000 hours of community service have translated into a value of over $15 million contributed to deserving nonprofits throughout the world.
"Jason says that time is the most valuable gift," said Grimes, Lippert's Director of Corporate & Community Impact. "What we are really trying to inspire is change. It is about more than just the hours, it is about getting more team members engaged with their communities."
This is what Grimes has been focused on for the past seven years, since meeting Lippert's CEO while he served on the board of the Boys & Girls Club of Goshen. Her interest in child advocacy had taken her from a position at a local law firm to the staff of the Boys & Girls Club five years earlier. Lippert, whom she said is particularly passionate about giving back, offered her a part-time position as the company's first Director of Philanthropic Partnerships & Acts of Service. Before long, this became a more-than-full-time position and today, she's part of a four-person office that works closely with the company's human resources division.
"We have the best HR team," said Grimes. "They work alongside us and they are the heartbeat of the organization. They know their team members and the over 90 communities worldwide in which Lippert has facilities, so they help drive this initiative."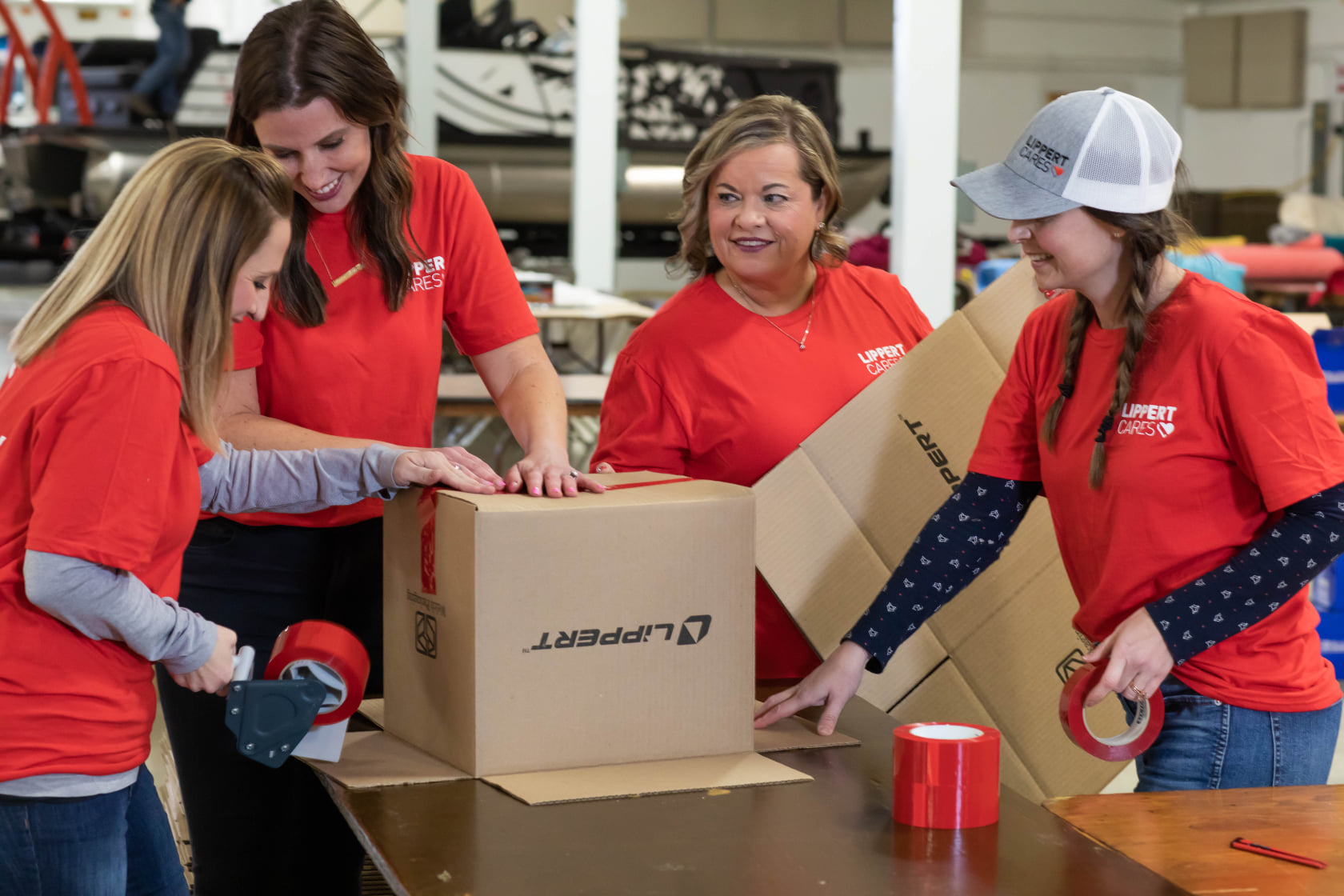 Building a robust culture of volunteerism at a corporation that boasts $4.5 billion in annual sales and employs 12,400 workers has largely been a make-it-up-as-you-go proposition for Grimes, but a very successful one. The 39-year-old has been recognized as one of the "40 Under 40" leaders of the RV industry.
"Helping team members find their passion outside of work or helping them with a project on behalf of their favorite nonprofit organization is the best part of my job," said Grimes, noting that 56% of employees participated in the umbrella "Lippert Cares" program last year. For 2022, the goal is 70% participation and 100,000 hours served.
"We've actually set a conservative goal this year because, in today's booming RV and outdoor recreation economy, our team members are working more hours than ever to meet consumer demand," she said. "Finding time has been a real struggle, especially in Elkhart County."
Making it easy for employees to locate volunteer opportunities and to log hours is what inspired the creation of the Acts of Service hub and app in 2017. Over 25 other local companies were onboarded to the platform before Lippert decided to gift the technology and database to the Elkhart County Community Foundation in 2019. Today, the company uses an in-house platform to enable team members to log in their hours. These are tallied and analyzed once a year.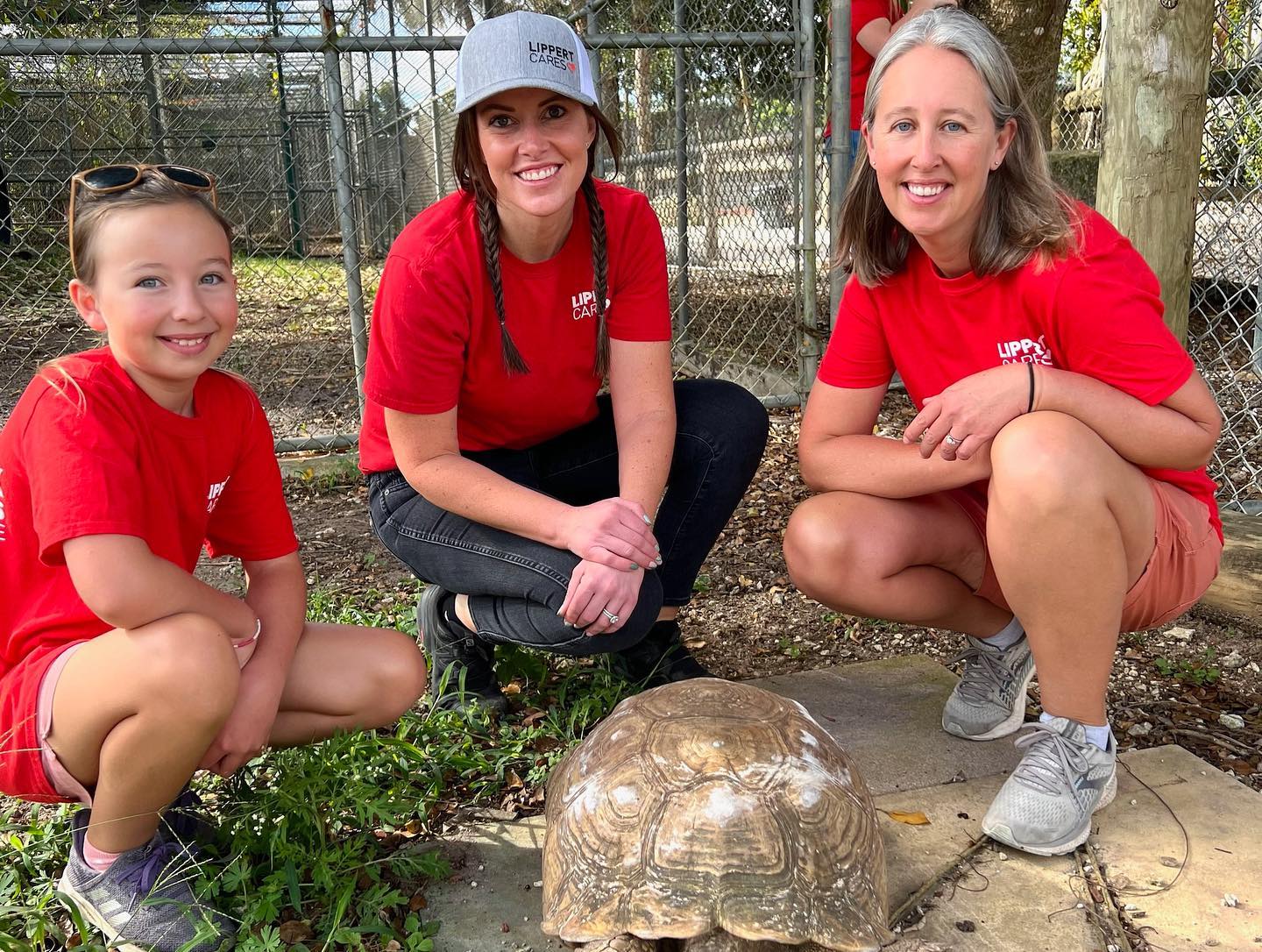 "The monetary value of the hours puts volunteer work into perspective," said Grimes. "Our team members are so generous with their time; we want them to know that it is valuable."
In early 2020, however, it was Lippert employees who needed help when the plants shut down for eight weeks. Jason Lippert directed Grimes to start a fund to help them pay their bills and feed their families during the first 10-12 weeks of the pandemic.
"This is just one example of the company taking care of its team members," said Grimes. "They are often with us more than they are at home, so we want them to feel cared for and cared about. We want them to feel the same way about their communities."
Grimes believes activities like rebuilding a playground are also the most organic way to team build. "Volunteering alongside someone puts everyone on the same playing field," she said, "The CEO and a truck driver are working shoulder-to-shoulder for a great cause."
Forging internal, as well as external, partnerships are what drive Grimes these days. As a member of the RV Industry Association's Emerging Leaders Coalition, she was instrumental in organizing the coalition's first industry-wide volunteer activity. Hundreds of volunteers and many companies across the industry have already committed to a full day of repairing and rebuilding the Potato Creek state park in North Liberty on May 11.
"The response we are getting for this has been humbling and inspiring," she said. "So many companies want to be involved. The industry is coming together and recognizing the needs around us. We are all asking how we can be supportive."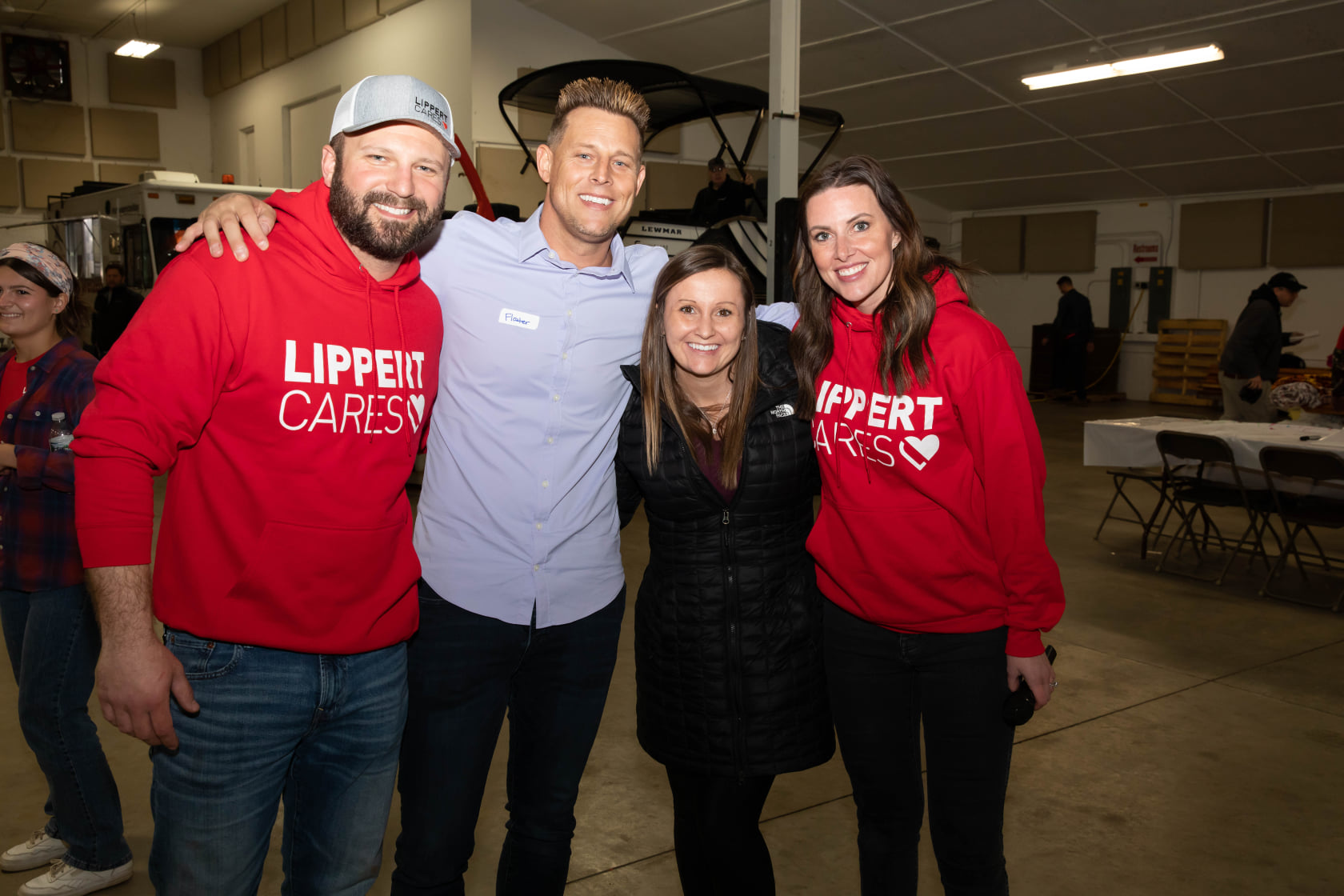 Grimes is also partnering with Lippert brand ambassadors to provide opportunities for RVers on the road to volunteer in local communities. In February, the company worked with an ambassador to do an event at the Everglades Outpost that was promoted on social media. This opportunity to help rescued species and renovate a turtle sanctuary drew RVers who planned their trips around the event. For some participants, it was a chance to teach their children to give back.
During Tampa RV show, Lippert ambassadors packed food to support Feeding Tampa Bay, a food bank in Tampa, FL.
Back at Lippert HQ, however, children's causes remain the priority for Jason Lippert and Grimes. Following the disruptions caused by COVID shutdowns, the company pledged to support mental health programs for kids and recently provided $500k in grants to local nonprofits whose programs focus on mental health and leadership for at-risk youth, ages K-12.
"The industry is wrapping its arms around kids and figuring out how to support these new programs and how to provide opportunities for them," said Grimes, who is the mother of four children, ranging from a college freshman to a toddler.
"My kiddos are my 'why'," she said. "I want them, and all children, to grow up in a fun and safe community."
Grimes and her husband, who is a Lippert Senior Executive, count RVing as favorite environment for their family. Their oldest son races ATVs, so they do a lot of "boondocking in the middle of nowhere," she said. They own a Jayco Seneca, which Grimes says has enabled them to continue travelling during COVID. "It is fun to get away with my family, disconnected from cell phone service at the ATV races," said Grimes. "We play games, sit around the campfire, and enjoy our family and the people we meet. Every time we camp, my daughter leaves with a new best friend."
With the list of individuals, organization, teams, and communities that she is helping, there may not be a lot of time for camping in the immediate future for this busy mom. Even though she has a lot on her plate, she would not change a thing. She recognizes the impact of her work.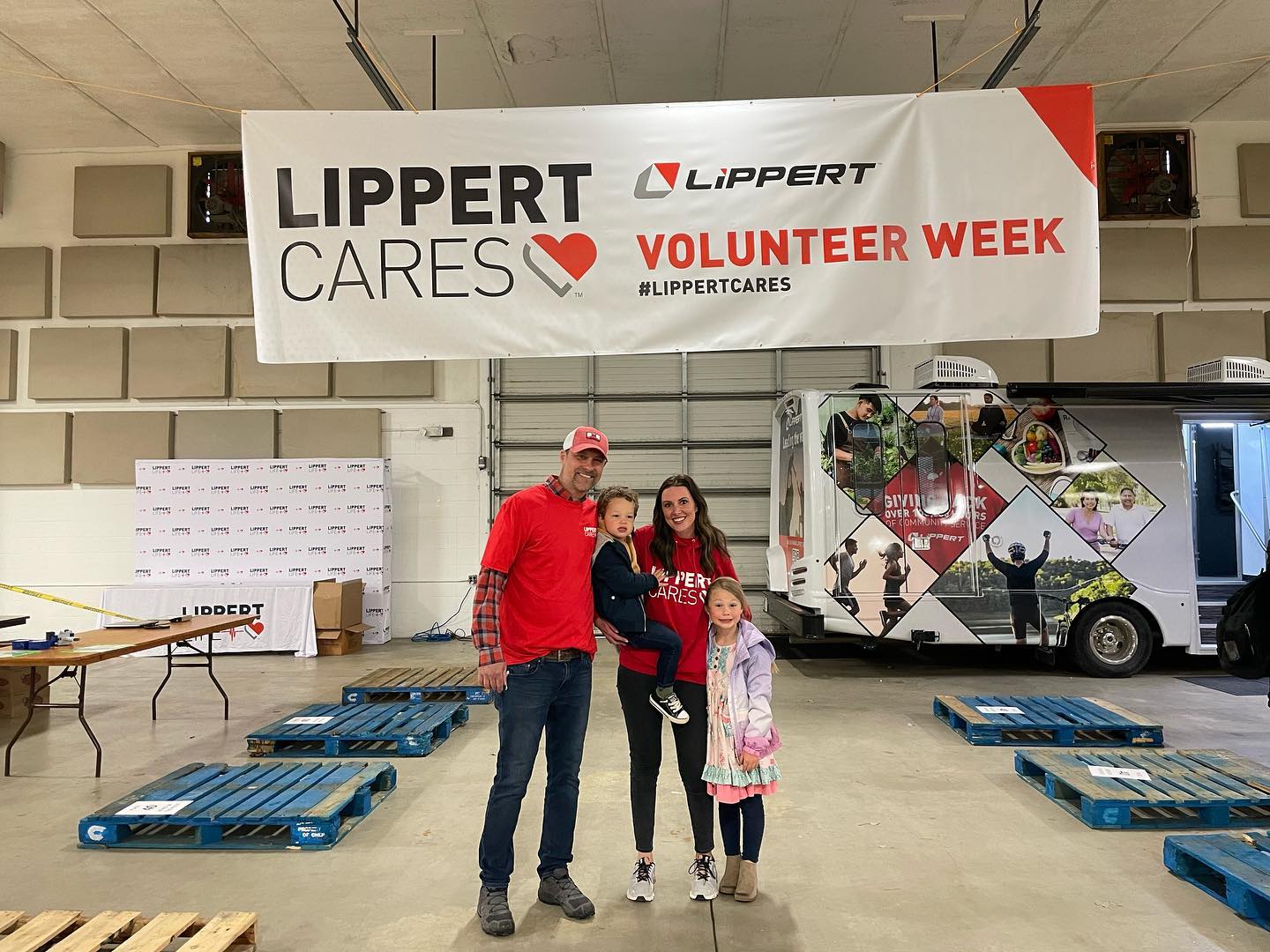 "I'm continually humbled that my daily work results in measurable change for the communities where Lippert team members live and work," said Grimes. "It is called 'Lippert Cares' because we do. We care deeply about what the future looks like for the next generation and will work tirelessly to inspire others to join us in making business a force for good."
Subscribe to News and Insights