At the age of 21, as he was completing his degree in Advertising and Marketing at Michigan State University, Bob Brammer faced a decision he knew would likely dictate the rest of his life. He and the woman he married five months before felt an itch to head to Chicago, where they'd have an opportunity to break into the advertising industry.
But another option was beckoning: Brammer's father was president of Stromberg Carlson, a mid-tier RV components manufacturer headquartered in Traverse City, Michigan. Brammer knew he had the opportunity to follow his dad into the business. He talks about the evening not long after graduation when "my dad and I shared our first cocktail, and I started asking him a lot of questions about the business." He also made it clear to his dad that he and his wife were leaning toward Chicago, where he thought he'd make his mark as "a big advertising executive."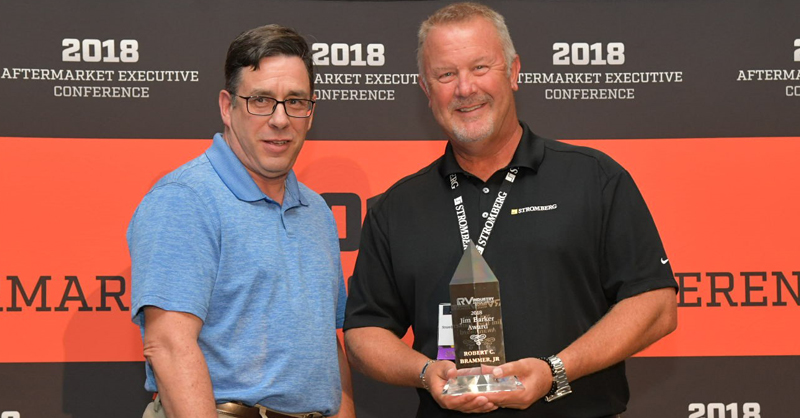 (Photo: Bob (right) at the 2018 RV Industry Association Aftermarket Executive Conference receiving the Jim Barker Award presented by then Chairman Steve Johnson (left) of Northern Wholesale)
During a heart to heart with his wife, he said "Jan, maybe this is our chance to go home and make a decent living in Traverse City." Nearly 39 years later, Brammer would likely say they made the right choice. While Brammer and his dad never quite agreed on whether he actually received a job offer during the conversation with his dad, he discovered early on that he would have to start at the bottom at a relatively low wage and work his way up. "He did offer me the use of the shop truck," Brammer chuckles. "Since my wife and I only had one car, we thought that was a pretty great deal." His first day was in December of 1983. 
Back then, Stromberg Carlson was mostly in the manufactured housing components business. "We made products for mobile homes, like entry steps, skirting, and anchors", Brammer explains. "My initial training was literally sitting in my dad's office and listening to him talk to the customers who had become friends over the years."
During the 1960s and 1970s, Brammer explains, his dad spent nearly all his time on the road, turning all those customers into friends. "Back then he was calling on guys like Doug Graninger, Jim Kirchner, and Dick Newkirk—guys who were all in manufactured housing, but who were also getting into the RV components distribution business. "It just became really clear to me that we should get into the RV business. There are more toys to build for RVs than there will ever be accessories for manufactured homes.  
"With an RV, it's all about what kind of destination you're going to," Brammer continues. "How much easier can we make your experience or add joy to your trip? It could be anything from a clothes dryer to a camping grill to a safety product, like a grab bar."
Not long after convincing his dad to add RV components to their product line, Brammer says, he went to his first RV show—the National RV Trade Show in Louisville. "That wasn't a bad way to really get my introduction to the RV industry," he jokes. "I'll never forget my first show, because I brought my electric typewriter with me so I could type up quotes for potential customers in the evenings.
So, I'm sitting in our room at the Holiday Inn the first night of the show, and my dad says, 'What are you doing? I said, 'I'm typing up quotes from the inquiries we got today.' And he replied, "No you're not. There are customers in the bar downstairs. Here's a credit card. Go down there and meet our customers.' That's when I finally discovered the wisdom in his approach to business. There are only so many opportunities to get to spend time in person with your customers. It's about relationships, not about getting a quote in the mail the next day."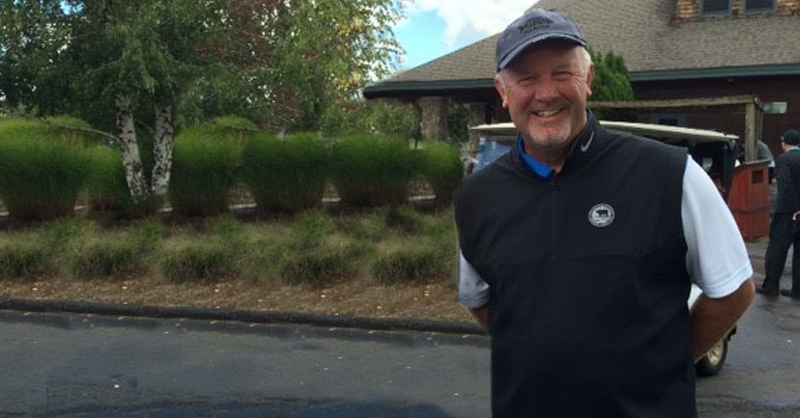 (Photo: Bob at the annual Coho event in Traverse City, MI, 2017)
Since those early days, Brammer has amassed his own collection of friends who started out as customers. "As it turned out, there were lots of other guys about my age who also had fathers in the business. We'd all go to the trade shows together and share hotel rooms and rental cars to keep costs down. Through those experiences we all became lifelong friends."
Back at Stromberg Carlson, Brammer says he continued his real-world education path, refining some of the skills he learned in college, and learning new ones, like mastering financial statements. "Profit and loss is a relatively easy thing to learn," he says. "What's harder is learning how to diffuse the situation when a customer comes to your booth [at a trade show] and is upset. Those are the better lessons."   
Brammer says he "was lucky to spend several years working with, and learning from, my dad." He recalls the time when he told his dad that he thought he would probably need to buy him out. "I explained that we would butt heads because I had a 50-year outlook on life," and dad replied 'Well, we need money now; what are you going to do about that?' I look back and think, "how the hell did I think I knew anything after working for him for just 2 years? I was blessed to work with him for 10."   
His dad also pointed him to others in the industry who he knew would help Brammer if he were ever in a bind. "We would be on the road or at a trade show and Dad would say, "This is Marlene Sine. She's your Den Mother. If you ever can't reach me, call her, and she'll tell you what to do."
The camaraderie within the industry doesn't just stay between manufacturers, suppliers, and dealers. Brammer talks about the time he flew into Minneapolis for Redwing Minnesota and was "sitting in the airport trying to figure out the least expensive way to get there. And here comes Larry Hamlet. He didn't rep my line, so we were something of competitors. Larry says 'Bobby, what are you doing?' And I said, 'I'm trying to figure out if it would be cheaper to rent a car or take a taxi to Redwing.' And Larry says "Don't do either. Just jump in our car with us.' He didn't have to give me a ride. But he just did. That tells you a lot about the people in this business."  
Brammer is proud that Stromberg Carlson has become known for certain RV accessories it makes, most notably an electric tongue jack that he helped design during the economic downturn of 2008. "I would have never imagined myself in the electric jack business," Brammer says, "but an opportunity came along, and it turned out to be a great decision for us." Stromberg Carlson is now known as one of the leading electric jack suppliers in the aftermarket.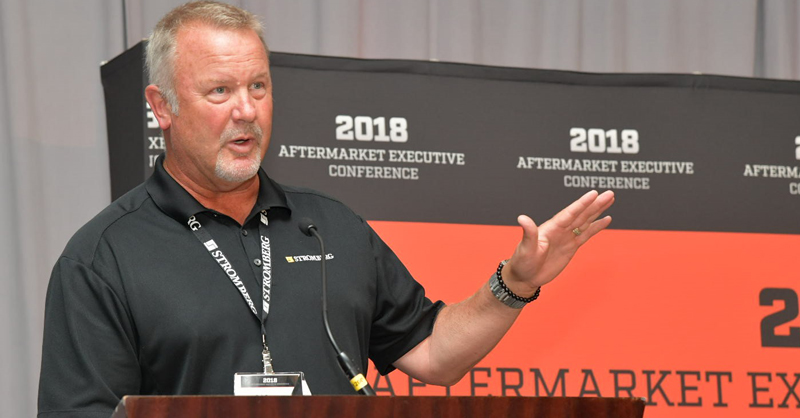 The pandemic has forced Brammer to prepare Stromberg Carlson for an even bigger future than he could have imagined. "When the pandemic first hit in March, I wasn't sure what to think," he says. "You have these moments of panic, like 'am I going to go out of business after 38 years?' I thought we'd be shut down for one or two weeks, so I didn't lay anyone off. Just when I was about to extend to seven weeks, the government offered PPP money, which helped a lot. Then in June, everything broke loose. Instead of 10,332 items on order this time of year, I have more than 20,500. Now I'm building additional facilities so we can turn more product around, and we're expanding into the leveling business."
Brammer's involvement with the RV Industry Association and other industry associations runs deep. In 1990, his Den Mother, Marlene Sine, convinced him to join the board of Michigan Association of Recreation Vehicles and Campgrounds (MARVAC). He eventually served as the association's president. Sine then called Brammer again to suggest he join the RV Industry Association's show committee—which he did. Later he joined RVAA (RV Aftermarket Association), which merged with the RV Industry Association in 2017.
"It made such great sense for these two associations to merge," Brammer comments. "We both had the same wants and needs." Still active on various committees, Brammer describes himself as "the guy making jokes in the back of the room, because I have a hard time being quiet for three hours. I'm more the house member and Tom Manning, our company's sales rep, is the poised senator in these meetings."
Stromberg along other suppliers like Tom Manning & Associates, Thetford, and Marshall Excelsior started their own dealer event 51 years ago. Named Coho, the companies invite dealers and distributors from around the country to experience the best of what the Traverse City area is known for: fishing, golf, wine tasting, and enjoying Lake Michigan. A number of RV Industry Association executives have attended over the years as well. This year the pandemic forced its cancellation, so Brammer and the other sponsors designed North Face jackets with a memorial logo—"Coho 51—The One That got Away" and sent them to everyone who attended Coho the past five years.
Brammer has set a date for Coho 52 in 2021, and looks forward to fishing, playing golf, and relaxing with his industry friends and colleagues--in person--and enjoying long-built and maintained relationships with colleagues who he says "would rather still work with people they know, like, and trust, than just focus on the bottom line."