As the national trade association representing the businesses who build more than 98% of all RVs produced in the U.S., the RV Industry Association sees our role not only as the unifying force for safety and professionalism within the RV industry, but also as the catalyst for working with federal and state policy-makers to promote and protect the RV industry and our members.
The RV Industry Association pursues your advocacy agenda 365 days a year, but the annual Advocacy Day – in which our Government Affairs Team organizes association members to visit Capitol Hill, with the aim to create a favorable business environment, protect against onerous legislation and make it easier for consumers to buy, drive and own an RV – is the one day above all others when that agenda is front and center.
This year's Advocacy Day was no different, aside from the fact that it was the biggest one ever, with 120 members holding 170 meetings with members of Congress, their staffs and Administration officials.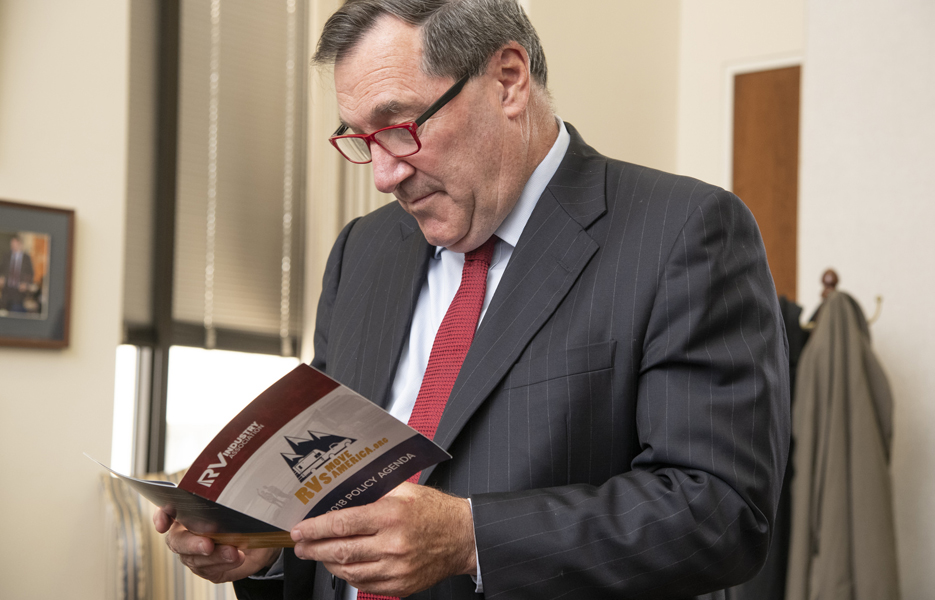 (Photo courtesy/Risdon Photography)
On Advocacy Day, the RV Industry Association plays both offense and defense. The story on offense is compelling. Members were able to share in their DC meetings that our industry:
Contributes $50 billion annually to the U.S. economy

Supports over 290,000 full-time jobs

Pays $15.8 billion in wages

Pays $5.7 billion in taxes

10.3 million households own an RV
In addition, thanks to the release of these numbers in February 2018 from the Bureau of Economic Analysis, we were able to share this preliminary estimate of outdoor recreation's impact on the U.S. Economy:
2% of the U.S. GDP and growing at a faster rate than the overall economy

$673 billion in direct economic output

4.3 million U.S. jobs
These compelling economic stories provided a great backdrop for our members and staff to urge members of Congress to support investments in infrastructure in national parks and other public lands. This overall case was made: Public lands and waters managed by federal agencies cover nearly one-third of the nation's surface and host more than one billion visits annually. Outdoor recreation is the number one driver of economic activity on federal lands and every dollar invested in the National Park Service subsequently returns ten dollars to the U.S. economy.
The following actions were urged:
Support the bipartisan Recreation Not Red-Tape Act (S. 1633 and H.R. 3400), which will improve access to outdoor recreation opportunities on federal public lands.

Support the bipartisan National Park Restoration Act (S. 2509 and H.R. 5210), an innovative solution to help overcome the more than $11 billion maintenance backlog in our national parks.

Support increased investment in campgrounds on public lands and use of public-private partnerships to address this need.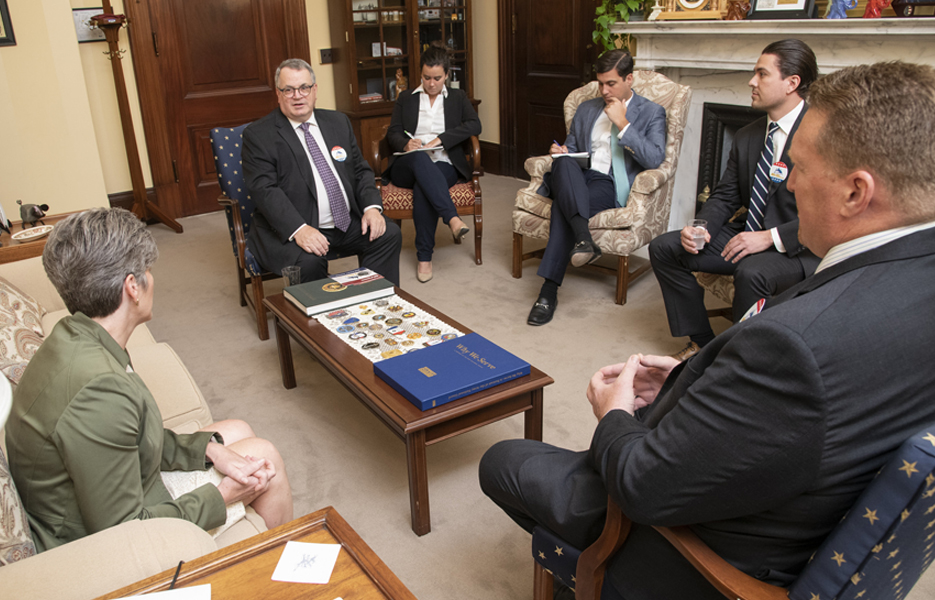 (Photo courtesy/Risdon Photography)
Sometimes though, the Association must play defense, and this year that defensive posture is concentrated in the arena of trade, tariffs and tax.
The United States is the world's largest producer of RVs, producing twice as many RVs as the rest of the world combined. The RV industry has strong trade relations with Canada and Mexico and depends on a strong trilateral agreement.
In 2015, RV exports totaled $1.2 billion.

Over 90 percent of all RV exports go to Canada, accounting for nearly 10 percent of all U.S. RV shipments. Over 53,000 American built RVs were exported to Canada in 2017.

Mexico is also a top recipient country for RV shipments, with 2 percent of shipments.
So rather than abandon NAFTA, the RV Industry Association supports a modernized NAFTA that further harmonizes vehicle standards between the U.S., Canada and Mexico to reduce regulatory burdens and facilitate greater U.S. production and employment.
Then there is the subject of tariffs. On Advocacy Day, RV Industry Association members and staff made the case that the scope of the steel and aluminum tariffs enacted to date, is far too broad to have the intended effect and will only create new challenges for American businesses to the benefit of foreign competitors. Steel and aluminum tariffs negatively impact U.S. RV production in several ways:
The tariffs will have a significant adverse impact on domestic manufacturers who use steel and aluminum through increased production costs.

Domestic steel and aluminum supplier costs have already risen as a result of the tariffs causing domestic component prices to increase.

The Section 232 tariffs indirectly subsidize RV Industry Association members' foreign competitors.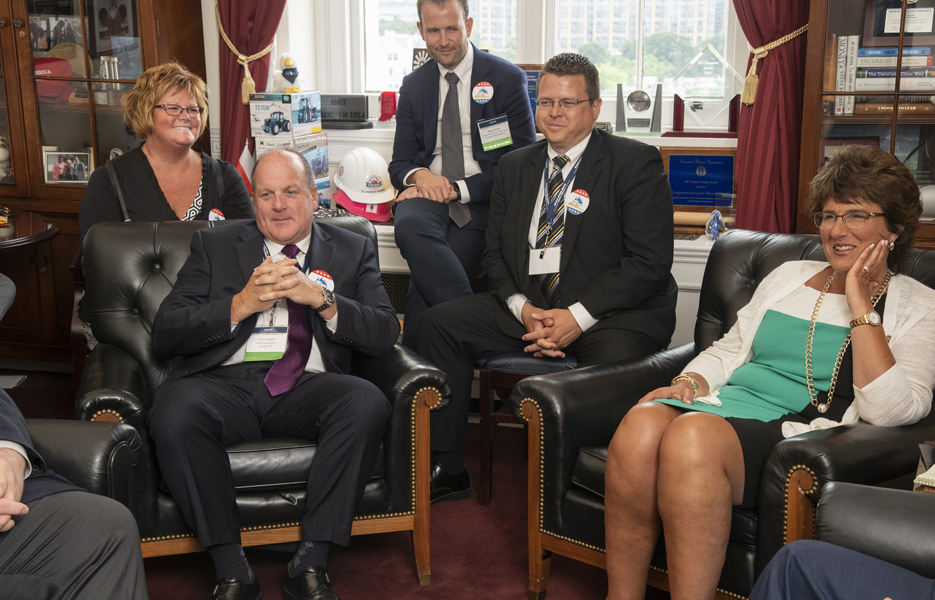 (Photo courtesy/Risdon Photography)
On the tax front, RV Industry Association members, as well as members from the RV Dealer's Association asked for a technical correction to the Tax Cuts and Jobs Act of 2017. This technical change is needed because of a drafting error that inadvertently removed the ability for towable RV dealers to deduct the interest on floor plan loans. Motorhome—and other recreation product dealers such as boat dealers—are still eligible for the deduction leaving towable dealers at a significant disadvantage.
Whether playing offense or defense, one of the best ways RV Industry Association members can advance our agenda on Capitol Hill is through the House and Senate RV caucuses. Caucus Members champion the RV industry and RV lifestyle on Capitol Hill and beyond by raising awareness of this uniquely American-made industry by supporting critical legislative and regulatory issues.
The RV Industry Association provides the House and Senate RV Caucuses opportunities for Senators, Representatives and their staff to learn more about the vital role RVs play in the outdoor recreation and travel industries through up-to-date industry information, news stories and briefings as well as special educational events throughout the year.
As the RV industry continues to grow, its impact in Washington continues to leave a lasting imprint for the future success of this industry and we thank our members for participating and celebrating in these efforts.
To learn more about Advocacy Day and how you can get involved, click here.