Recently announced by the RV Industry Association, RV Technical Institute's Executive Director, Curtis Hemmeler, is expanding and enriching his role to include the title of Senior Vice President of Standards. This supplemental title is a natural addition for Hemmeler, whose decades of experience in technical education and training have helped make the RV Technical Institute a success over the last two years.
Current Vice President of Standards, Bruce Hopkins, will retire at the end of the year. Hopkins, the 'godfather' of the industry's Standards and Inspection program leaves behind a 40-year legacy of self-regulation that promotes uniform Standards across the RV industry.
Hemmeler says that his goal is to continue Hopkins' legacy of excellence within both the Standards and Educations programs. "Standards is one of the RV Industry Association's core functions, touching every manufacturer, supplier, dealer, and RV consumer. My new position constitutes a 'new role,' and yet, 'not new.' In my initial RV Technical Institute position, Standards and Education were always intertwined. But the difference is that now that we have this entity called the RV Technical Institute - a physical facility with classrooms and access to curriculum design here in Elkhart -- Education and Standards will form an even better consolidation."
Explains RV Industry Association President Craig Kirby, "the Standards Succession Task Force hit one out of the park when selecting Curt as the Senior Vice President of Standards," says Kirby. "It's critical that we maintain continuity of the Standards Program Bruce Hopkins developed, and Curt brings a wealth of knowledge, expertise, and experience to lead both Standards and the Institute in this expanded role."
Hemmeler's prior experience makes him uniquely well-positioned to take on his new, dual-pronged role. Before entering the RV world, Hemmeler's work focused on two main areas: education and technical training. Recounts Hemmeler, "It is interesting how my 30 years of professional life come together in this position. My military training, my educational background, as well as the leadership pieces I've held, are very appropriate for these additional duties."
Before coming to the RV Technical Institute, Hemmeler served as the Vice President of Operations and Strategy for WyoTech, a division of Zenith Education, which trains auto and diesel technicians. In that position, he led a team of over 300 across three locations. "I was involved in building programs and facilities, for on-ground, hybrid, and online delivery. I did that for 20 years specifically in senior leadership positions, overseeing those projects."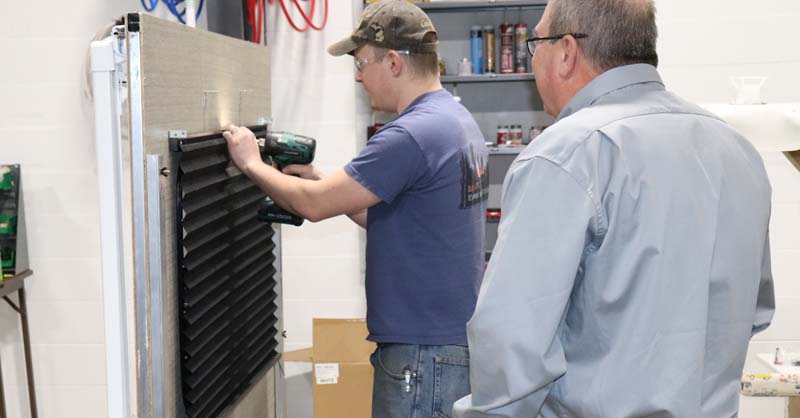 Hemmeler previously served 12 years in the United States Air Force and Ohio Air National Guard as an Aerospace Ground Equipment Specialist, where he was in charge of the oversight of the numerous Ground Equipment Technical Manuals and Standards. Explains Hemmeler, "I was the one that standards would be delivered to, and I would have to put it in the form of a cataloging system. That's very similar to what our Standards Department does today. And as an Aerospace Ground Equipment Specialist, I dealt with all the equipment that supports an aircraft on the flight line. All the things you have to simulate when you are flying, like hydraulics, generators, air conditioning units, those were the things we were actually training with. And all those things go into the makeup of an RV. "
In June 2018, the RV Industry Association Board of Directors created the RV Technical Institute to solve the RV industry's shortage of trained technicians. After a nationwide search, the Board chose Hemmeler to oversee it. In two years, he has managed its development and launch, creating the RV industry's Technical Education program. This was achieved by developing the only industry-wide curriculum and credentialing program designed to increase the number of high-quality trained RV technicians in the industry.
"This is important to us, since that will equate to improving repair event cycle times through our standardized curriculum and training," said Hemmeler. "In turn, that will lead to increased customer satisfaction."
With Curt taking added responsibility leading the association's Standards Department, RV Technical Institute's Senior Director of Education, Sharonne Lee, was promoted to Vice President of Education and Operations for the Institute under Hemmeler's direction.
Hemmeler says Sharonne Lee's promotion makes "great sense" for the program. "Over 30 years at the RV Industry Association, she has worked predominately in Education and Standards, so as she becomes the orchestrator of operations on both sides, it will allow me to innovate the two entities and further grow the Elkhart location. I think it's going to be a good strategic move in the long-term evolution of both Standards and the RV Technical Institute."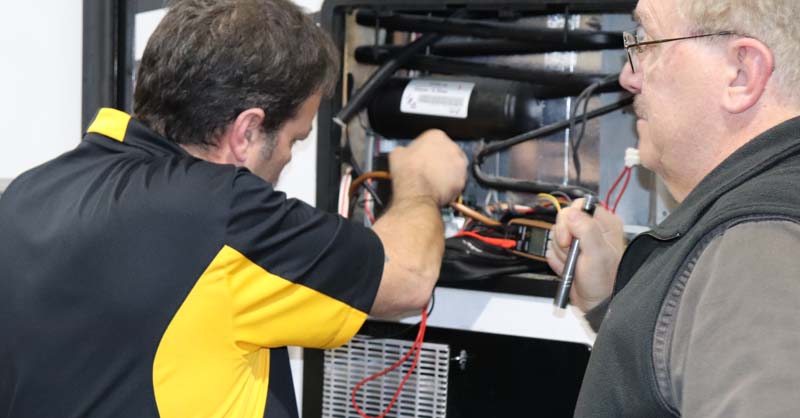 Since the beginning of the coronavirus pandemic, the program has moved to an online format to substitute for or, in some cases, supplant the in-person model in Elkhart. And there will be more to come.
"I've asked Sharonne and the team to come up with other delivery models in addition to online and the face-to-face programs," said Hemmeler. "There are going to be about five different ways for a person to receive their certification based on their learning style, their learning needs, and perhaps their economic situation."
"This is a monumental change to the way education has been presented within the RV industry," Hemmeler continued. "Which up to now has been using just textbooks and some on-site learning. Our goal is to be ready with these five delivery methods by September 1, the kickoff of the training session. COVID-19 will dictate whether we can offer the program in-person at that time, so we are preparing for all eventualities."
According to the RV Technical Institute, a technician will be deemed a Level 1, 2, 3, or Level 4 tech-based on completion of designated levels and the ability to successfully demonstrate the required knowledge and skills. Each level of training builds on the foundation of the previous level and allows the technician to become a generalist or a specialist.
While Hemmeler and his team are looking at new ways to market the Institutes Level 1 program to an ever-widening audience, one particular group he wants to reach is high school students. "Our curriculum," says Hemmeler, "is wrapped around seven core areas which cover everything but the engine. Those core areas are propane, electrical, plumbing, chassis, body, generators, and appliances. We touch upon those critical areas in Level 1 particularly. Many high school kids across the country have not been exposed to these things. And we know there is a critical need for technicians of all types, whether it is electricians, HVAC techs, and more. So, our Level 1 program can be extremely attractive to high schools because we can deliver it in a one-week chunk or they can divide it up however they want since it is modulated."
Hemmeler goes on to say that he has been in touch with school officials around the country about employing Level 1. "I've been talking to Elkhart County Schools and others. We have a partnership with the American School Counselors Association which covers every high school in the country. We are talking to them about rolling out our program, allowing high schools to offer it to their students to get them excited about these trades."
From the beginning, Hemmeler adds, "My overall long-term goal has remained the same: that the RV Technical Institute remains the standards and education epicenter for the RV industry.